RFX software for

direct material

sourcing

Send RFPs, RFQs and RFIs with wantex to save time, reduce spend and transact with confidence.
Expand your toolbox now with an easy-2-implement solution!
Flexible RFX content
Covering BOMs, cost breakdowns, questionnaires and more!
Quote history
Track quote history by item, supplier, project, and more.
Projects
Run your sourcing projects in wantex. NPI, relocation, savings, CAPEX...
Two-way ERP sync
Works standalone or with your ERP in a one-way or 2-way sync.
Most mid-size companies fail to create continuous

savings in direct material
The Top 5 mistakes CPOs make in their eSourcing journey from 0-50+ Mio. savings.
Sourcing all by yourself
Trial and error to create savings has 7-figure costs of inaction associated.

Ignoring differences in material groups
Your business is unique and needs an adaptable sourcing tool that works for all your material.

Believing that a new ERP system solves you sourcing challenges
ERP systems are transactional by nature and excel at purchasing tasks but are not made for sourcing and supplier collaboration.

Considering email and excel digital
Just think about that last time you needed to urgently find that second offer in your email box to avoid assembly line closure.

Looking for 100% sourcing automation
This rarely works, especially if you have many PLM, Quality and ERP systems. However you can automate the repetitive tasks!
FEATURES
Built for efficiency
FLEXIBLE QUOTES

BID TRACKING

QUICK COMPARISON

SAVINGS TRACKING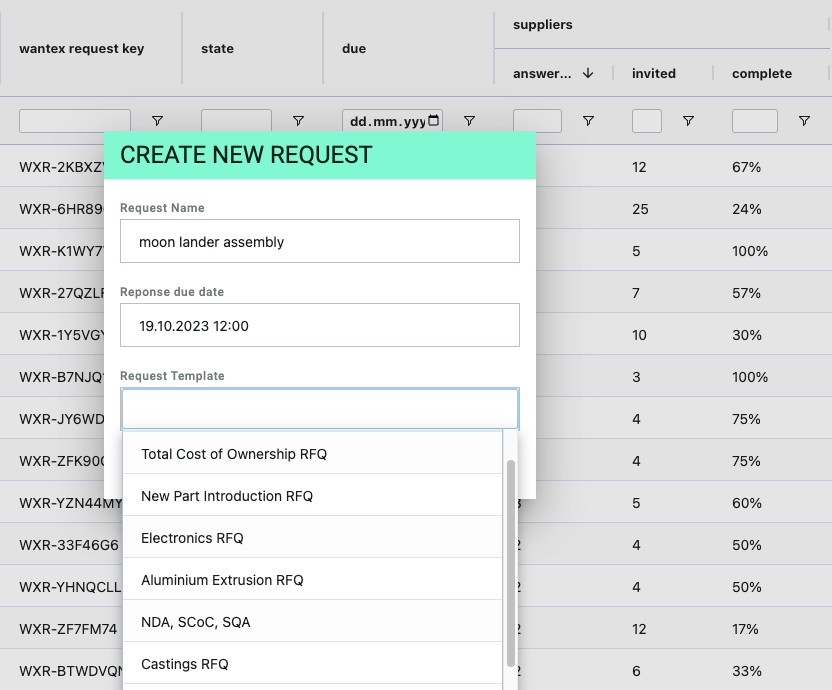 Launch RFX in minutes from templates
Launching RFQs made easy. You choose one of our pre-defined templates or create your own.
Our RFQs are fully customisable to your sourcing situation: launch new part requests, benchmarkings, cost engineerings, cost breakdowns and much, much more. And all within a few clicks.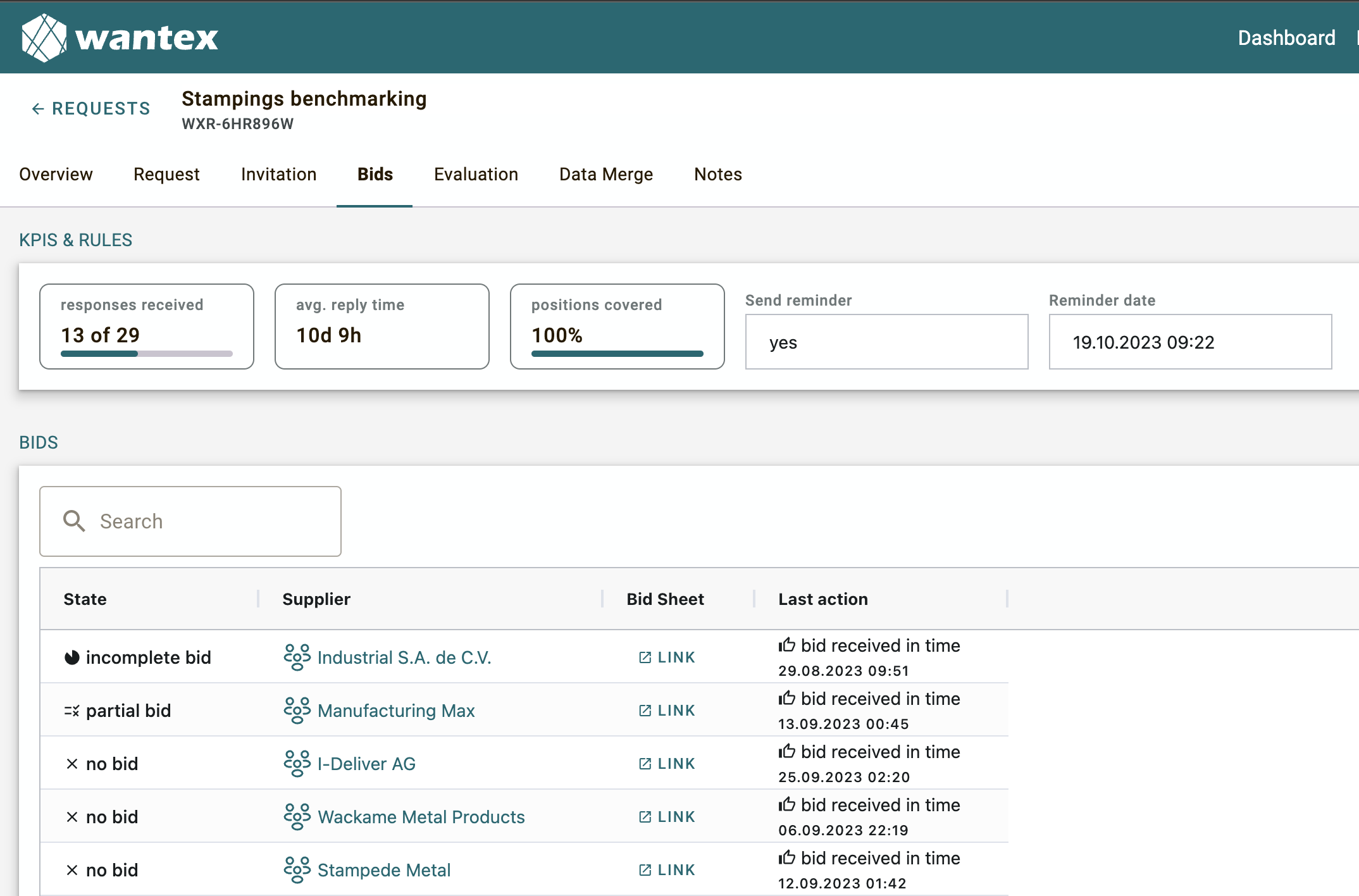 Receive supplier quotes in hours and track their progress
Easily send out comprehensive quote packages to suppliers with just a few clicks.
Then just kick back and watch the bids come in. wantex makes sure that you get the information needed by reminding suppliers.
Discover the simplicity and efficiency that wantex brings to your supplier quote process.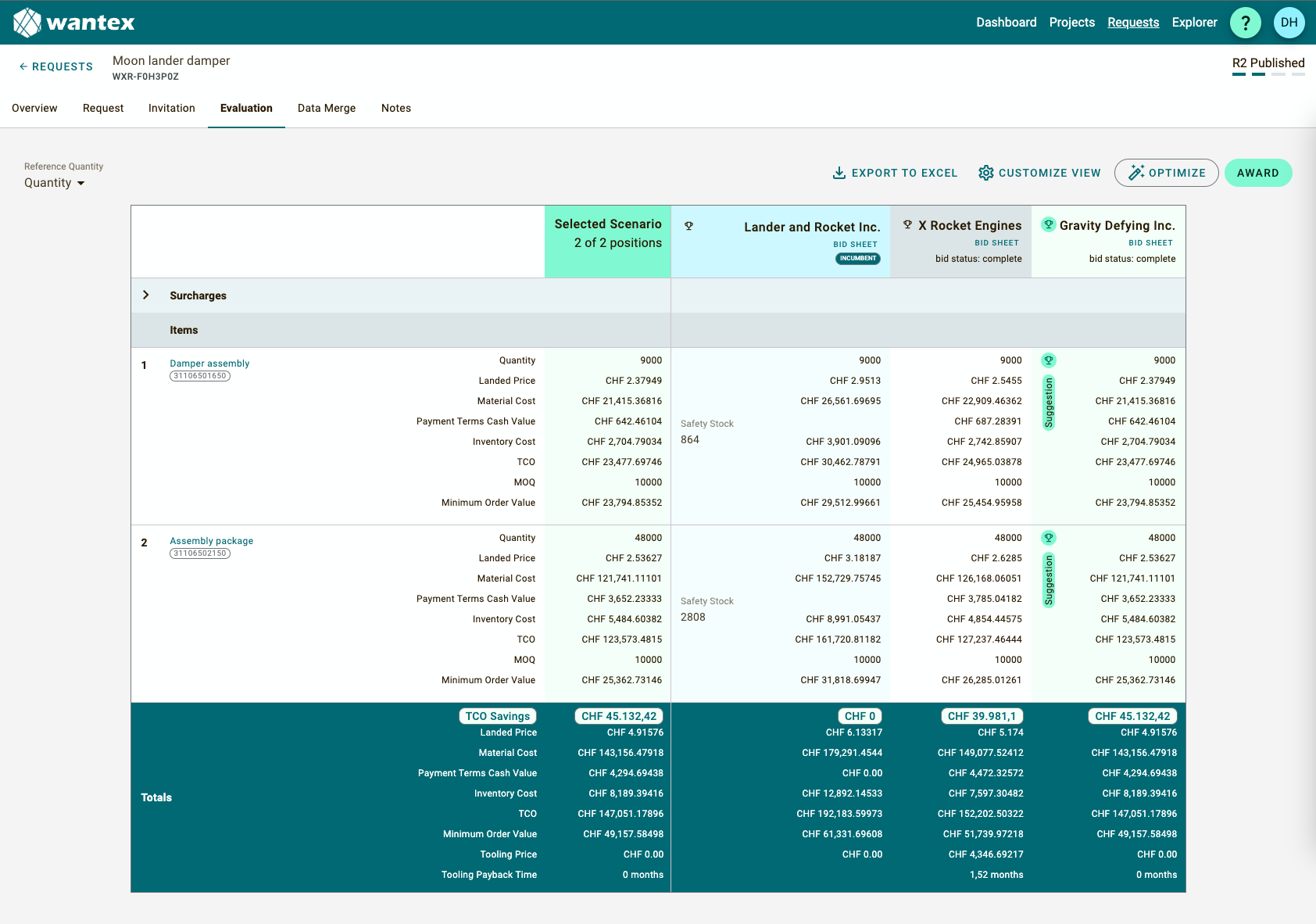 AI facilitated bid evaluation
Receive suggestions for the best offers with our AI driven quote comparison considering your preferences on Total Cost of Ownership, risk mitigation, supplier preference and much much more.
Say goodbye to tediously creating manual scenarios from offers and use the easy side by side quote comparison.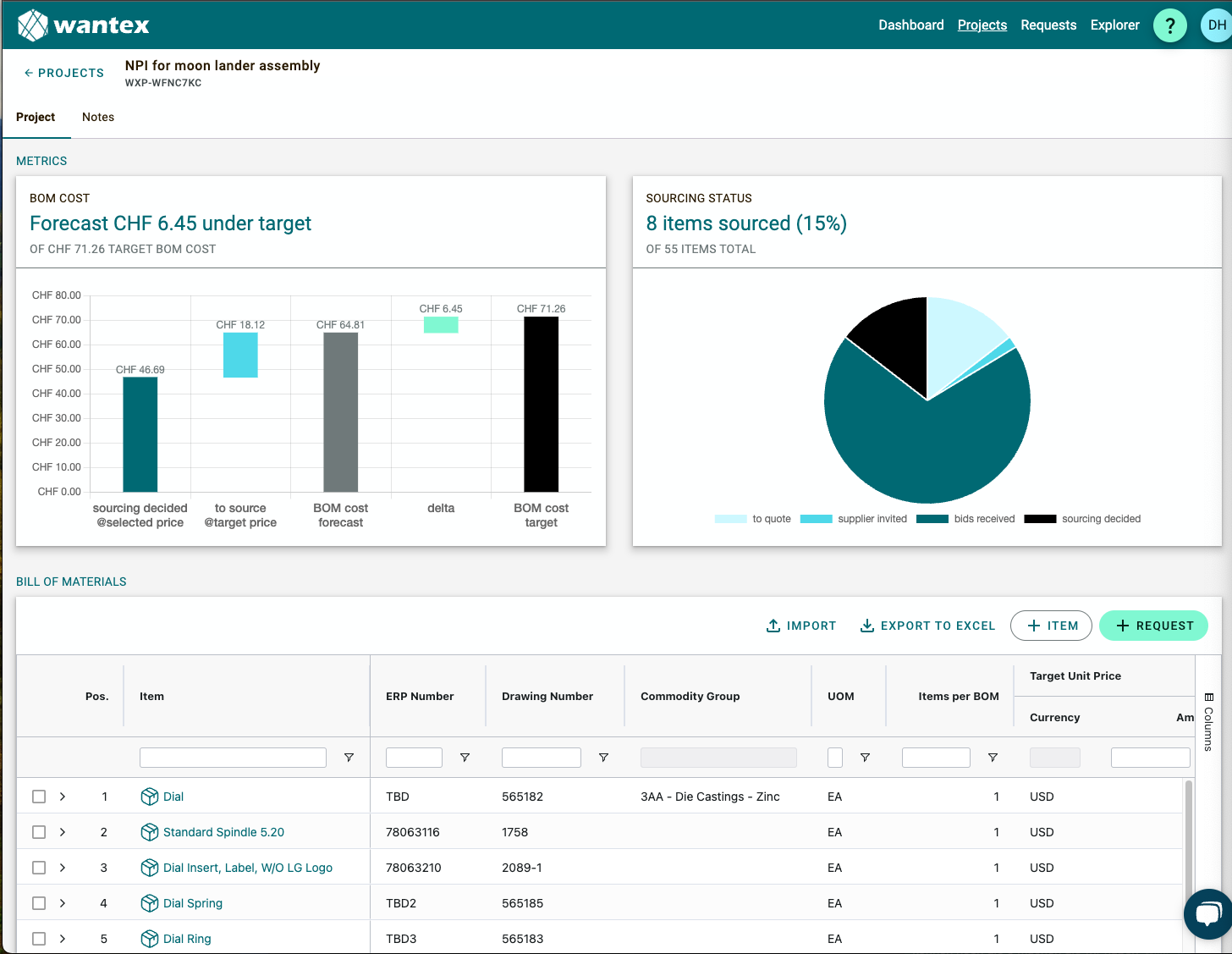 Track your sourcing achievements automatically
Still track your savings in excel? No longer! Stop wasting your teams precious time on manually updating initiatives and collecting cost avoidance and savings. Our tool helps you highlight your achievements and enables you to create lasting impact rather than feeding excel sheets.
TRUSTED BY INDUSTRY LEADERS
Boosting Sourcing Capabilities
"The need to improve our capabilities in the area of Source-to-Contract is big. Our aim is to enable the Procurement organization to easy run RFQs or budgetary quotes. At the same time, we do not want to miss standardization and harmonization of global processes which help us to leverage savings contribution to the success of dormakaba. Wantex helps us to achieve these targets and is a great complement to our toolbox. In addition, our buyers love the tool as it helps to save time and automate tasks - for us and the suppliers."
PLUG AND PLAY
Set-up within hours
Easily deploy a custom-branded and secure sourcing tool to manage all supplier communications and workflows.
Get up an running within a day - no IT department required to get started.
Say goodbye to the frustration of dealing with jumbled spreadsheets, endless emails, and important information getting lost in the shuffle.
Suppliers love our platform because they can start collaborating right away! No registration! Gone are the times where you spent time onboarding suppliers to a platform.
Works with existing tools
Collect sourcing information in one tool and connect with your ERPs in a one-way or 2-way sync.
3.4h
saved per RFX by swapping emails and attachments for the structured wantex approach
87%
of manual interactions with suppliers eliminated
0 minutes
spent onboarding supplier to wantex as we do not have a registration process!
6 hours
from signing with wantex until you have published your first RFX
One tool for efficient direct material sourcing.
Ready to check it out?
What is the ROI?
On average customers achieve return on investment within the first 3 months of deployment.
wantex customers save time from about the third RFQ that they send out. Typical time savings in manual tasks average 3.4h per RFQ. Also, you will find yourself inviting more suppliers making the results more competitive. Average savings against incumbent are around 7% with some cases being much much higher.
Can I use my existing cost breakdown templates?
Yes! You will need to convert your existing custom quote templates into wantex quote sheet templates once. This task usually takes about 5 minutes and we will help you set them up.
How long does it take until I can send my first RFQ?
With wantex being a web-based platform, the set-up time is incredibly fast. Experience the wantex speed as you send out your first RFQ within just an hour after signing up.
What makes wantex different from SAP Ariba / Jaggaer / Coupa?
Many of our clients use another sourcing solution and wantex for good reasons: Tools such as SAP Ariba are focussed on indirect material and catalog purchasing with a strong focus on approval flows and compliance.
They however lack the features an efficient and performant direct sourcing organisation needs. Also, they were built at the beginning of the millennium and thus do not have the greatest user experience and performance.
How do you calculate savings?
Savings within the wantex platform are either calculated against previous prices where available or against average supplier bids.
Metrics are adjustable according to your company definition.
What is the pricing model?
wantex offers a user-based pricing structure that ensures fair and transparent fees. While we don't have a set-up fee, there may be charges for integrations tailored to your specific needs. Schedule a demo to discuss the details and unlock the full potential of automated direct material sourcing.